LIGHTING - ELBERT COUNTY CHARTER SCHOOL
Elizabeth, Colorado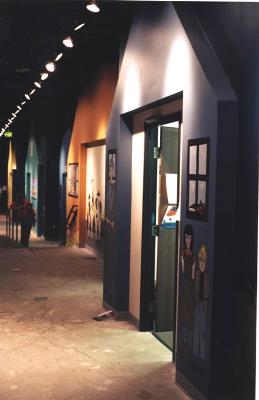 With a lighting budget of $5,000, even general circulation lighting was hard to achieve in this space.
I chose to use a night sky effect in the central corridor to reduce the perceived tightness of the space, as well as to focus attention on the bright iconic entry elements at each classroom . This resulted in a lighthearted yet dramatic space at very little additional cost.
Lighting was provided solely through economical 130V PAR track fixtures, supplemented by strip fluorescent lighting at the underside of the deck for emergency and maintenance purposes. The system was also designed to change intensity and color throughout the day, although this was removed from the project for budget purposes.