LIGHTING - LEVEL III NICU
Georgetown University Hospital, Washington, DC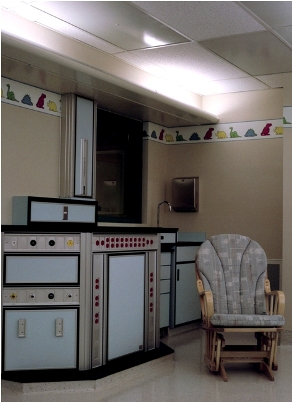 This critical care nursery required a soothing atmosphere with a low but uniform ambient light level. There was no space available above the ceiling for recessed lighting.
Since uplighting fit the requirements, a semi-custom tube fluorescent uplighting system was selected. Dimming of fluorescent lighting was impractical at the time, so multilevel switching was used to halve the light level in the evening hours. Lighting for critical functions was provided by portable fixtures, which were preferred by the staff.