LIGHTING - MAIN ENTRANCE LOBBY RENOVATION
Georgetown University Hospital, Washington, DC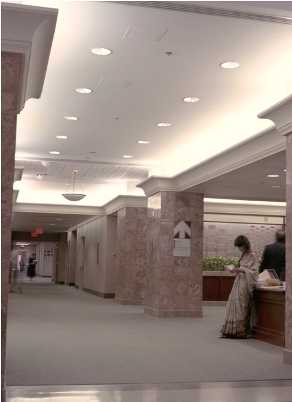 The lighting design challenge in this project was to provide a sense of height in a low, narrow corridor with minimal space above the ceiling, while at the same time providing a high, uniform ambient light level.
The solution was to use strong continuous uplighting at a lower level, creating a brightly illuminated cavity above. The uplighting source is fluorescent staggered strips, concealed behind a custom glassfiber reinforced plaster architectural cove. Lighting is supplemented with fluorescent downlighting, accent lighting and task lighting.