LIGHTING - LYNDHURST RECREATION CENTER
Lyndhurst, NJ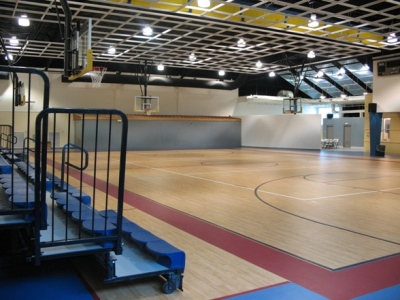 This project was constructed in a pre-engineered structure that had housed a bus repair facility. Accordingly, the ceiling was an unsightly mixture of torn or dirty insulation.
The budget did not allow for the construction of a new ceiling, so a brushed aluminum open grid was installed, and the insulation painted dark plum, to create a new visual ceiling plane. High bay metal halide lighting was installed in the grid to reinforce this plane. The lighting system was designed for economy and low heat and power loads. Panels were placed beneath the fixtures in places to change the character of the light.